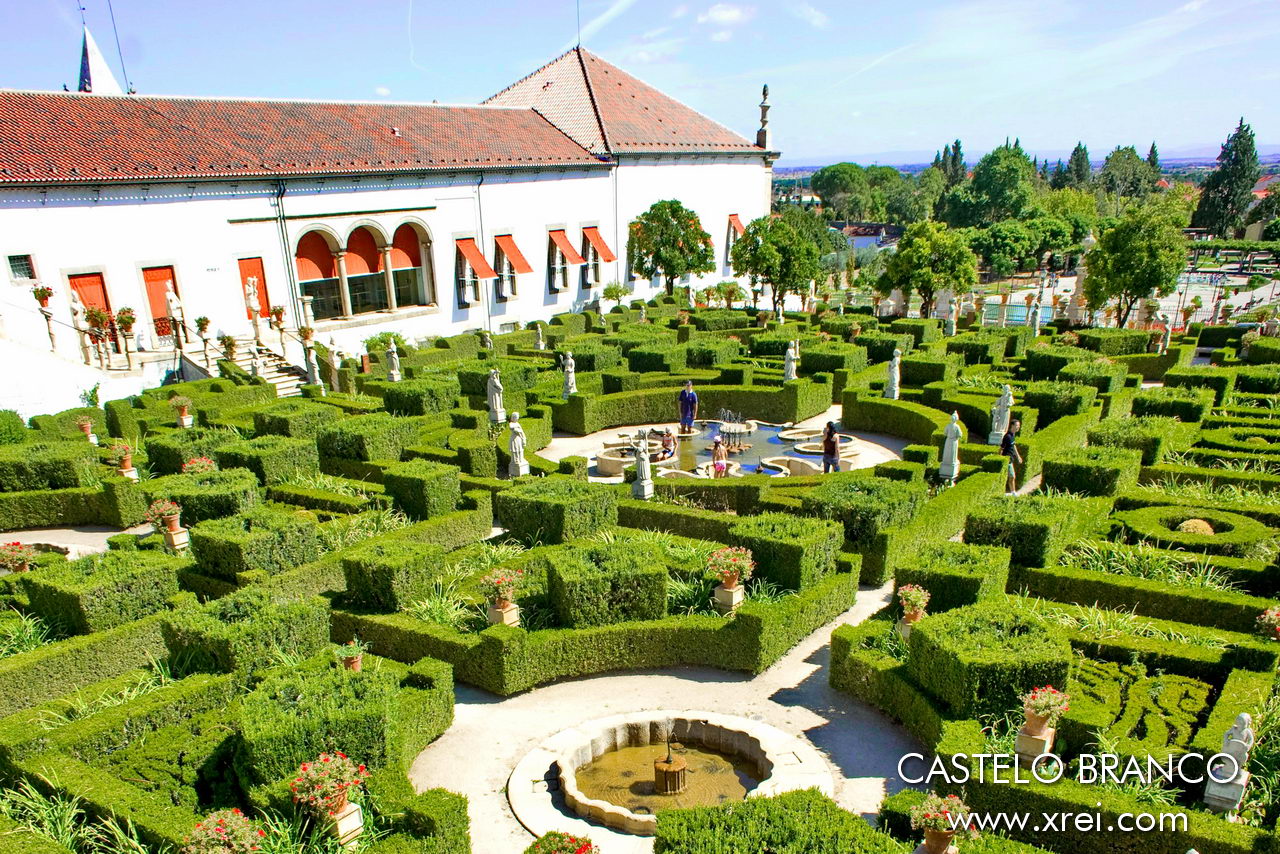 In this article, you will get to know about...
Castelo Branco
Castelo Branco is a city in the center of Portugal, located in a flat area at the top and hillside of Monte da Cardosa, close to the Ponsul and Ocreza rivers, tributaries of the Tagus River. In 2006, the city of Castelo Branco was considered the second district capital of Portugal, with better quality of life in a study carried out by the Portuguese Consumer Association (DECO), distinguished in the areas of safety, food costs and the quality of supply in health care. Castelo Branco is a university city, with a dynamic dynamic academic life throughout the city.
The city of Castelo Branco
The city of Castelo Branco can be divided into two main areas:
Historic Center: where we find the medieval quarter of Castelo Branco, distinguished by the wide squares and narrow streets. This old area of ​​Castelo Branco includes notable buildings, namely the Domus Municipalis, the São Miguel church, the Paço Episcopal, the Francisco Tavares Proença Júnior Museum, Solar dos Motas, the Francisco Tavares Proença Júnior Museum or the Cargaleiro Museum.
Cosmopolitan and modern center: this new centrality of Castelo Branco includes structures such as the Town Hall, the Docas Secas (recreation of the sea docks with terraces, bars, leisure spaces, gardens), the Caixa Geral de Deposits, Cineteatro Avenida, Public Library and a garden.
Quality of life in Castelo Branco
Castelo Branco is a city that invests in the well-being and quality of life of its citizens, visible in the existing infrastructure in the city, namely:
Bike paths: Bike path on Avenida Professor Egas Moniz, Bike path on Parque Urbano and Bike path on Avenida do Dia de Portugal.
Tennis Courts: Tennis Courts at Albi Sport Club, with six synthetic courts and three tennis courts; Tennis courts at Quinta Dr. Barão, with a synthetic court.
Motor Sports: Euro Autocross circuit, Railcross track, and Kartkross track.
Gardens: Bosque do Castelo, Jardim do Paço Episcopal, Jardim da Parque da Cidade, Jardim do Praça do Município, Jardim das Violetas and Mata dos Loureiros.
Parque Urbano: Castelo Branco infrastructure with bike paths, a lagoon, football fields with support structures, a swimming pool complex (Praia Swimming Pool and Indoor Covered Swimming Pool) and a Skate Park
Pools: Alcains pool, and Salgueiro do Campo pool.
Fluvial Beaches: Taberna Seca River Beach, Sesmo River Beach, and Almaceda River Beach.
Places to visit in Castelo Branco (top 10)
Jardim do Paço Episcopal
Jardim do Paço Episcopal: it is a garden opened in 1725, one of the main attractions of Castelo Branco. It is a small, yet magnificent garden, located next to the Paço Episcopal, with a wide variety of trees, statues depicting saints, kings, and other concepts, a wide staircase and five lakes. Jardim dos Alagados, in Jardim do Paço Episcopal, is known for the monumental fountain that boasts a statue of three dolphins entwined with a crown on top.
Piscina Praia de Castelo Branco
Praia de Castelo Branco Pool: it is a leisure space of reference in the city. The Praia Pool includes a car park with a capacity for 750 vehicles, a lawn area, 3950 square meters of water and a spa with a capacity for approximately one thousand people.
Castelo de Castelo Branco
Castelo Branco Castle: also known as Castelo dos Templários, it is the most important historical-military monument in Castelo Branco. It was built by the Templars between 1214 and 1230 as a fortress-settlement. In its main enclosure there was the Church of Santa Maria do Castelo that was practically destroyed during the Spanish invasion of 1640. Castelo Branco Castle was part of Linha do Tejo, line of defense composed by Castelo de Almourol, Monsanto Castle, Pombal Castle, Tomar Castle and Zêzere Castle.
Parque das Violetas
Parque das Violetas: it is a wooded park with a walking track, bicycle, skateboard, green spaces, children's slide park, and garden benches along the garden. It is a calm space, ideal for practicing sports, and for children to play outdoors.
Museu Cargaleiro
Museu Cargaleiro: is a museum opened in 2005 with the objective of publicizing the works of the Collection of the Manuel Cargaleiro Foundation, local artist. The museum is housed in the Solar dos Cavaleiros, an 18th century mansion.
Igreja de São Miguel ou Sé Catedral
Igreja de São Miguel ou Sé Catedral: it is the Cathedral church of Castelo Branco since 1956, classified as a Property of Public Interest. It is a church with architectural elements of Baroque and Rococo style from the Middle Ages. The church was restored in the 18th century.
Centro de Cultura Contemporânea de Castelo Branco
Castelo Branco Contemporary Culture Center: it is a building of contemporary architecture that stands out in the city, with regular exhibitions of contemporary art from the region. The Castelo Branco Contemporary Culture Center includes an auditorium with a capacity for 275 people.
Zona de Lazer de Castelo Branco
Castelo Branco Leisure Area: it is a park located in the west of the city, with many sports infrastructures and green spaces. Close to the Escola Superior de Tecnologia, Escola Superior de Artes Aplicadas, and Escola Superior de Saúde. Here we find 2 football fields, a multisport field, the municipal swimming pool complex, the Praia Branco Castelo Pool, a pond Castelo Branco Skate Park with eighteen ramps and rails available for skating, inline skates , and BMX.
Loki parque
Loki parque: it is an amusement park for children and families, equipped with giant inflatables, slide, trampoline, Karts, a multisport field, discotheque, multimedia area, indoor tree climbing route for children and adults, bumperball, indoor paintball, and horseback riding.
Museu Francisco Tavares Proença Júnior
Francisco Tavares Proença Júnior Museum: it is an art museum installed in the former Episcopal Palace of Castelo Branco, with a permanent exhibition of archaeological finds, 16th century tapestries and Portuguese primitive art, namely a collection of old quilts.
Other places to explore in Castelo Branco
Barragem de Santa Águeda
Barragem de Santa Águeda: also known as barragem da Marateca, it is a dam located 15 km from the city of Castelo Branco, it is a quiet place of natural landscape, with good conditions for fishing, sports nautical tours, nature tours, and with a beautiful sunset.
Capela de Nossa Senhora da Piedade
Chapel of Nossa Senhora da Piedade: this chapel has as its main highlight a set of tiles from the 18th century that represent the adoration of the Magi, the Last Supper, the Mysteries of the Virgin and images of the Apostles
Casa Arco do Bispo
Casa Arco do Bispo: it is a 13th century house located in Praça Velha or Praça de Camões, it is an architectural landmark of Castelo Branco.
Celeiro da Ordem de Cristo
Granary of the Order of Christ: it is a building of the Order of Christ, used as a public granary until the 19th century.
Centro de Interpretação Ambiental
Environmental Interpretation Center: it is a space with fourteen interactive equipment, with the objective of disseminating the natural heritage existing in the Tejo Internacional Natural Park
Chafariz de São Marcos
São Marcos Fountain: it is a fountain located in Largo de São Marcos. It stands out for the sculptures of the arms of the Portuguese king D. Manuel I, with the Cruz de Cristo, and the Esfera Armilar.
Convento da Graça
Convento da Graça: it is a 16th century church classified as a Monument of Municipal Interest, where the headquarters of Santa Casa da Misericórdia de Castelo Branco is located. This convent belonged successively to the Order of Saint Francis, Order of Saint Augustine, and to the Santa Casa da Misericórdia.
Domus Municipalis
Domus Municipalis: is a historic building from the 16th century, located in the Old Town Square. This building functioned as City Hall, court, jail and library.
Largo e Cruzeiro de São João
Largo e Cruzeiro de São João: it is a monument built in the 16th century. It served to indicate the existence of a chapel dedicated to Saint John.
Miradouro de São Gens
São Gens viewpoint: it is a viewpoint with panoramic views over the entire city, Serra da Estrela, the historic village of Monsanto and Spain.
Palácio dos Viscondes de Portalegre
Palácio dos Viscondes de Portalegre: it is a palace built in 1743. It was the seat of the Civil Government of Castelo Branco from the 19th century. Houses the current city hall of the city
Parque da Cidade
Parque da Cidade: it is the municipal park of Castelo Branco located in front of the Francisco Tavares Proença Júnior Museum. The Park includes fountains, with sidewalks decorated with the typical Portuguese black and white cobblestone.
Aerodromo de Proênça-a-Nova
Aerodrome of Proençaça-a-Nova: it is an aerodrome with an airstrip of 823 meters, located in Moitas 5 km from Proênça-a-Nova. The airfield is equipped with a hangar and restaurant. Here, a parachuting center operates, with instructors accredited to provide tandem jumps, and teach free diving courses.
Locations and other attractions to visit near Castelo Branco
Aldeia de Monsanto
Aldeia de Monsanto: is one of the historic Portuguese villages located northeast of Idanha-a-Nova, in the Monsanto hill at 758 meters of altitude. Idanha-a-Nova was elected the most Portuguese village in Portugal in 1938 by António Ferro, Minister of Propaganda at the time. This distinction led this village to be awarded the "Galo de Prata" prize, which still exists today in Torre do Lucano. In the village of Idanha-a-Nova we highlight the Chapel of Santo António, the Casa de Fernando Namora, the Cruzeiro de São Salvador, the Misericórdia Church, the Matriz Church, the Castle, the Porta do Espírito Santo and the Torre do Lucano.
Belmonte
Belmonte: is a village located in Cova da Beira, with a privileged panoramic view over the Serra da Estrela. It was in Belmonte that the Portuguese navigator Pedro Álvares Cabral was born, responsible for the discovery of Brazil in 1500. Belmonte is also known for the importance of its Jewish community. In Belmonte we can visit some historical heritage, such as the Belmonte Castle, the Centum Cellas Tower, the Zêzere River Ecomuseum, the Mother Church, the Discoveries Museum, the Jewish Museum, the Pousada Convento de Belmonte, the Bet Eliahu Synagogue, the Solar dos Cabrais, and the Roman Villa of Quinta da Fúmea.
Serra da Estrela
Serra da Estrela: the highest mountain in mainland Portugal with 2 thousand meters, the place where we can see the sources of the Mondego river in Mondeguinho, the Zêzere river in Covão de Ametade, and the Alva river in the Rossim valley . In Serra da Estrela we find glacial valleys of Loriga, Manteigas and Covão do Urso. Serra da Estrela is the only place in Portugal where there is a ski resort, where we can practice winter sports, go down the sledges, or go snowboarding in winter. This region of Portugal is known for Serra cheese, bread, Serra da Estrela breed dog, and natural wool crafts. In Serra da Estrela it is worth visiting the Serra da Estrela Natural Park, the Solar do Queijo Museum, and the Wool Museum.
Fundão
Fundão: is a city with approximately 9 thousand inhabitants, located at the foot of Monte de S.Brás, in Serra da Gardunha. Fundão is known for the production of cherries, sour cherries, peaches, olive oil and wine. Here there are several hundred cherry growers, classifying Fundão as the capital of the cherry. Fundão cherry is known as "red gold", considered by many the best cherry in the world. In Fundão we can taste the Fundão cherry cake, a gastronomic innovation that has been available in all pastry shops since its invention in 2011.
Fundão is the seat of the municipality with 23 parishes: Alcaide, Alcaria, Alcongosta, Alpedrinha, Baroque, Bogas de Cima, Capinha, Castelejo, Castelo Novo, Enxames, Fatela, Fundão, Janeiro de Cima and Bogas de Baixo, Lavacolhos, Orca, Pêro Viseu , Póvoa de Atalaia and Atalaia do Campo, Silvares, Soalheira, Souto da Casa, Telhado, Três Povos, Vale de Prazeres, and Mata da Rainha.
Penamacor
Penamacor: it is a village with approximately 1500 inhabitants, where we can visit the Castle of Penamacor, the Municipal Museum of Penamacor, the Dr. Mário Bento Museum, and other historical heritage. It is the seat of a municipality with 9 parishes: Aldeia do Bispo, Águas and Aldeia de João Pires, Aranhas, Benquerença, Meimão, Meimoa, Pedrógão de São Pedro and Bemposta, Penamacor, Salvador, and Vale da Senhora da Póvoa,
Idanha-a-Nova
Idanha-a-Nova: is a town classified as a City of Music by UNESCO, with approximately 2100 inhabitants, seat of municipality subdivided into the 13 parishes of Aldeia de Santa Margarida, Idanha-a-Nova and Alcafozes, Ladoeiro, Medelim, Monfortinho and Salvaterra do Extremo, Monsanto and Idanha-a-Velha, Oledo, Penha Garcia, Proença-a-Velha, Rosmaninhal, São Miguel de Acha, Toulões, and Zebreira e Segura.
Sertã
Sertã: is a historic village with approximately 5500 inhabitants, where we can enjoy a gastronomy rich in meat, and visit the Igreja Matriz da Sertã, Castelo da Sertã, Ponte da Carvalha, the pillories of Sertã and Pedrógão Pequeno and the Town Hall. Sertã is the seat of the municipality with the 10 parishes of Cabeçudo, Carvalhal, Castelo, Cernache de Bonjardim, Nesperal and Palhais, Cumeada and Marmeleiro, Ermida and Figueiredo, Pedrógão Pequeno, Sertã, Troviscal, and Várzea dos Cavaleiros.
Cais Fluvial dos Lentiscais
Cais Fluvial dos Lentiscal: located on the Ponsul River approximately 6 km from Castelo Branco.
This leisure infrastructure includes a tourist vessel with a capacity for eighty people that crosses the Lentiscal Wharf (Portugal) and the Cedillo Wharf (Spain).
From this pier it is possible to sail along the Tagus River to the town of Herrera de Alcântara, in Spain.
Geopark Naturtejo da Meseta Meridional
Naturtejo Geopark da Meseta Meridional: it is a geopark located in the municipalities of Castelo Branco, Idanha-a-Nova, Nisa, Oleiros, Proença-a-Nova and Vila Velha de Ródão, with approximately 4600 km2. The Geopark includes 16 geomonuments, namely:
the Portas do Ródão Natural Monument,
the Penha Garcia Icnological Park,
the Meanders of the Zêzere River,
the Roman Gold Mine at Conhal do Arneiro,
the Corgas geomorphological viewpoint or the epigenic gorge of Malhada Velha,
and other elements of geological heritage.
Bird watching is among one of the most important activities of the Geopark Naturtejo da Meseta Meridional
Idanha-a-Velha
Idanha-a-Velha: is a village located in the district of Castelo Branco. It is part of the largest set of Roman ruins in Portugal. In Idanha-a-Velha we can visit a vast heritage, namely, the Epigraphic Archive, the Chapel of Espírito Santo, the Chapel of São Dâmaso, the Chapel of São Sebastião, the Church of Santa Maria, the Mother Church, the Lagar de Varas , the Palheiros de Sâo Dâmaso, the Poldras over the Pônsul river, the Old Roman Bridge over the Pônsul river, the North Gate of the 4th century AD Roman wall and the Templar Tower.
Monfortinho
Monfortinho: is a town located next to the Spanish border. This town is bathed by the river Erges. According to local beliefs, the waters of this river are indicated to treat problems related to chronic skin diseases, disorders of the digestive, circulatory and respiratory systems and rheumatic diseases. The highlights of Monfortinho include the Mother Church of Nossa Senhora da Conceição, the archaeological remains, the old mines, and the Castro do Picoito de Monfortinho.
Penha Garcia
Penha Garcia: is a fertile village in prehistoric and Roman remains, located close to the Spanish border. The position of the village on a hillside allows a panoramic view of nature.
In Penha Garcia, it is worth visiting the Castle built in the 12th century, rocks over 490 million years old (time when all continents were united around the South Pole), water-powered caster mills, and the Route of the Fossils.
Praia Fluvial de Almaceda
Praia Fluvial de Almaceda: is a river beach created on a stream that crosses the village of Almacena. In this river beach we have the presence of an old oil press that worked with the force of the waters. In Almacena we can walk the path along the lagares route, a circular path where we can get to know the old olive mills, traditionally known as stick mills. And the circular route of the mills, starting in the village of Xisto in Martim Branco.
Praia Fluvial do Sesmo
Praia Fluvial do Sesmo: river beach located in the village of Sesmo. From this river beach we can visit the villages of Rapoula, Penteado, and Malhada do Cervo, three villages of unique beauty.
Shopping centers in Castelo Branco:
Forum Castelo Branco: it is a shopping center with 70 stores, a restaurant area, and a Pingo Doce supermarket.
Centro Comercial Alegro: it is a shopping center with cinema, shops, restaurants, and a hypermarket of the Auchan group.
The Castelo Branco Festivals and Pilgrimages
Nossa Senhora de Mércoles: held annually fifteen days after Easter Sunday
Municipal Holiday: held annually on the third Tuesday after Easter Sunday
Madeira: held annually at Christmas time
Passion Procession: held annually during Easter
The gastronomy of Castelo Branco
Castelo Branco is home to a unique, tasty and distinctive cuisine from the rest of the country. Albicastrense gastronomy has the following typical dishes:
Stuffed tripe (Bucho Recheado),
Roast Kid (Cabrito Assado),
Stuffed kid (Cabrito Recheado),
Pies from Castelo Branco (Empadas de Castelo Branco),
Onion Liver (Fígado de Cebolada),
Killing Soup (Sopa de Matação),
Pasta Soup (Sopa de Massa),
Rice pudding (Arroz Doce),
Honey Broas (Broas de Mel),
Easter Ball (Bola de Páscoa),
Cavacas (Cavacas),
Bowls (Tigeladas),
Castelo Branco cheeses (Queijos de Castelo Branco),
Yellow Cheese from Beira Baixa (Queijo Amarelo da Beira Baixa),
Spicy Cheese from Beira Baixa (Queijo Picante da Beira Baixa).
The craft of Castelo Branco
The craftsmanship of Castelo Branco is a major tourist attraction, with historical importance for the city. Includes items such as embroidery, stonework, linen blankets and quilts, patterns and cork objects. Castelo Branco embroidery deserves a special mention. The tradition of albicastrense embroidery emerged in the 18th century. Embroidery art is currently promoted through the Castelo Branco Embroidery Interpretation Center, where we can learn about the entire process of creating embroidery: from the sowing of linen to weaving, through history and symbolism. It is possible to buy embroidery at three locations, at the Municipal Crafts Market, at the Tavares Proença Júnior Museum, and at the Castelo Branco Embroidery Workshop-School.
Economy of Castelo Branco
Castelo Branco is a fertile area, with the cultivation of a wide variety of fruits, vegetables and olive groves for the production of olive oil. Raising of cattle, sheep and goats for meat production and cheese production. The main artisanal products produced in Castelo Branco are embroidery, regional cheese, olive oil and wine.
The subsoil is rich in tungsten, tin and uranium.
Castelo Branco has a Castelo Branco Industrial Park with approximately 280 hectares of infrastructure, direct access to the A23, and with more than 200 companies from various sectors: agrifood, cold industry, automobile components, metalworking, textiles, clothing, furniture, wood , distribution, logistics. This Industrial Park has the Polytechnic Institute of Castelo Branco, as its main partner. The Castelo Branco district has great tourist potential, with nature tourism and historical heritage. Tourism and the University of Beira Interior are two major drivers of the region's economy.
Geographic location
Castelo Branco is a city located in the Center of Portugal region. The Castelo Branco district borders Portalegre to the south, Spain to the east and southeast, Santarém to the southwest, Leiria to the west, Coimbra to the northwest and Guarda to the north. The district of Castelo Branco has a temperate climate with temperatures ranging between 25ºC in summer and 7ºC in winter.
The municipality of Castelo Branco is divided into 19 parishes, namely:
Alcains, Almaceda, Benquerenças, Castelo Branco, Cebolais de Cima and Retaxo, Escalos de Baixo and Mata, Escalos de Cima and Lousa, Freixial and Juncal do Campo, Lardosa, Louriçal do Campo, Malpica do Tejo, Monforte da Beira, Ninho do Açor and Sobral do Campo, Póvoa de Rio de Moinhos and Cafede, Salgueiro do Campo, Santo André das Tojeiras, São Vicente da Beira, Sarzedas, Tinalhas.
The most important mountain systems in the Castelo Branco district are Serra de Alvelos, Serra da Estrela, Serra da Gardunha, Serra da Malcata, and Serra do Muradal. The most important rivers in the Castelo Branco district are the Erges river, the Ponsul river, the Ocreza river, the Tagus river and the Zêzere river.
History of Castelo Branco
Castelo Branco was born as a castro, a small fortification built on top of a hill in Roman times. In this period of history, Castelo Branco was called Castra Leuca.
Castelo Branco was donated to the Templars in 1165 by D Afonso Henriques, the first king of Portugal. It was with the Templar religious order that the city Castelo Branco acquired its current name. On April 15, 1771, D. José I elevated Castelo Branco to the category of city. The great economic growth of Castelo Branco happened from 1936 with the water supply of the Ocreza dam.
Quick facts about Castelo Branco
The natural Portuguese of Castelo Branco is called albicastrense.
Population of the district of Castelo Branco: about 197 thousand inhabitants
Population of the city of Castelo Branco: about 34 thousand inhabitants
District: Castelo Branco
Former Province: Beira Baixa
Year of foundation of the municipality: 1213
Airfield: 1
Helipad: 1
Municipal holiday: Holiday of Our Lady of Mércoles, third Tuesday after Easter Day